Continued overflow of sewerage at Road Reef a health, financial risk
---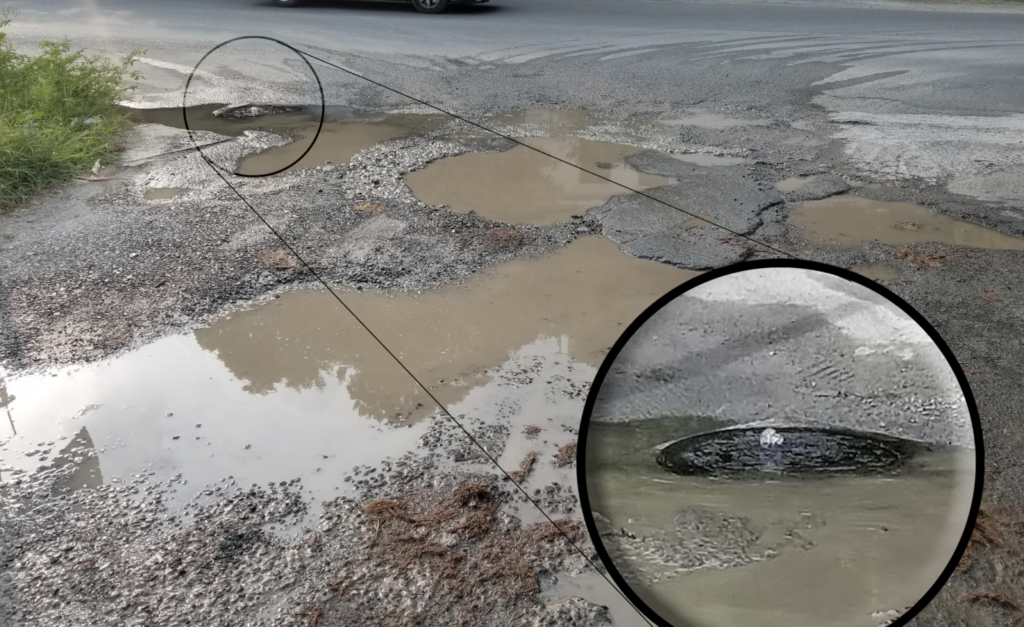 After years of being left unattended, overflowing sewerage at the entrance of Road Reef is now posing a health and economic risk to operators in the area.
When BVI News visited the area on Monday, raw sewerage was observed gushing from underground through a metal drain cap located just footsteps away from the entrance of a popular food market. The ground nearby was saturated with the potentially disease-causing sewer waters and even human faeces have been said to surface at times.
According to Mark Sanders who partly owns and operates a yacht charter business in the area, the overflowing sewerage has impacted his business as customers feel uncomfortable with the foul smell.
"There are areas within our marina that are rendered unusable because of the stench and contaminated water. I have also seen human waste pooling in the food market parking area — being walked on with shoes [and tread] into the market itself. The near-constant leakage has destroyed the road surface, and when they do manage to stop the leak, the waste dries into toxic dust, which blows everywhere. It is extremely damaging to tourism, it is a public health hazard, and all of us with businesses on Road Reef are sick of having to drive, ride or walk through this nastiness," Sanders noted.
Years of emails
Our news centre has seen several emails about the problem that Sanders sent to multiple officials to at Ministry of Works & Utilities. Some of these records date back to 2019.
In his latest email to the ministry's Permanent Secretary, Ronald Smith-Berkeley and several others dated October 12, 2021, Sanders issued another complaint about the sewerage problem.
"It is now four days since I reported our last sewerage leak at the entrance to Road Reef. Nothing appears to have been done to rectify this issue, and we now have a lake of foul-smelling water pooling all the way down the entrance road to Road Reef," he wrote.
"As people have walked, ridden, and driven through this health hazard, and also the close proximity to a food market, I feel it only appropriate that the Environmental Health Department immediately gets involved. This unacceptable situation has been going on for many years now, and it needs proper resolution before somebody gets seriously ill or worse," Sanders added.
Empty promises?
Smith-Berkeley had promised a little more than a year go to have the problem fixed within the first half of this year.
In that response to one of Sanders' emails on September 29 2020, Smith- Berkley had stated: "I will simply say that the ministry is working closely with the director and her team at WSD (the Water & Sewerage Department) to permanently resolve these issues. As it relates to the matter of the sewerage at Road Reef, there is a permanent fix in the making but will not come to fruition until Q2 of 2021 approximately".
Smith-Berkley added the long-term fix should result in the removal of the pump from the middle of the road to facilitate a bigger station with adequate size pumps.
However, Sanders said the situation has yet to be rectified but he hopes it will be addressed soon enough as the tourist season has started.
BVI News tried to contact the minister responsible for works and utilities, Kye Rymer, as well as the Director of the Water and Sewerage Department Pearline Scatliffe-Leonard for comment but up until news time, no response was received.
Copyright 2021 BVI News, Media Expressions Limited. All Rights Reserved. This material may not be published, broadcast, rewritten or distributed.