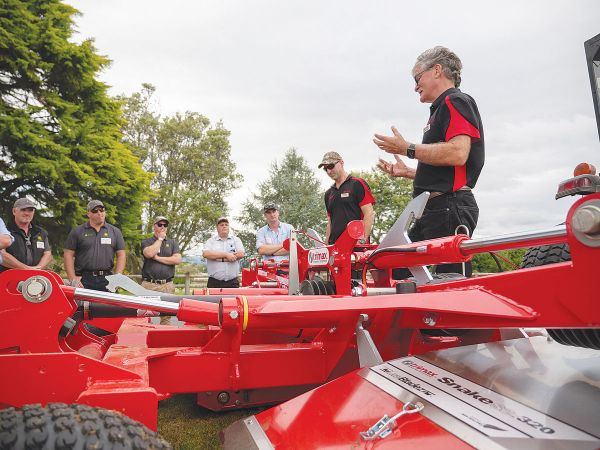 Made in New Zealand: Trimax
Made in New Zealand examines the wealth of design and manufacturing capabilities we have in New Zealand, creating productive and profitable products for the agricultural sector. Machine editor Marc Daniel takes a closer look at Trimax mowing systems, catching up with owner and founder Bob Sievwright.
Q – When was the company founded, by whom and why (was it to solve a problem or bring a product to market)?
Trimax was formed in 1981 from two Bay of Plenty mower companies that I bought to market the Gamma Flail I had developed. Its design reduces energy consumption and offers a better cut than any other flail on the market. So much so that most of today's plagues are modeled on the original design of the Gamma Flail. Today in 2021, we are celebrating our 40th anniversary.
Q – Where are you located? Is it one or more sites and how many people are employed?
Our main office and manufacturing facilities are in Tauranga. We also manufacture in the US and UK and have a distribution center in Australia. Overall we have around 130 employees, the majority are based in New Zealand.
Q – What are your flagship products and what markets do they serve?
Trimax specializes in commercial mowing equipment suitable for a variety of applications. This includes lifestyle blocks, orchards, municipalities, golf courses, athletic fields, and lawn farms. Our versatile and innovative line of rotary and flail mowers deliver high quality cutting, even in the harshest environments.
Q – Are your products unique? If so, what are the top four benefits? If they are not unique, what are the four unique selling points?
Trimax has worked closely with its customers to develop new innovations, many of which directly contribute to our customers' bottom line to reduce maintenance and increase productivity. Our mowers are renowned for having a long commercial life; with 35-year-old Trimax mowers in the field that still deliver a great cut! Along with the low cost of ownership, our support service is second to none with local support staff and parts warehouses in each of our key markets – with next day shipment of parts orders. We're a true New Zealand company that, since 1981, has done all of our R&D and most of our manufacturing in the Bay of Plenty – and will continue to do so.
Q – In a constantly changing market, what changes have you made in recent years, or what will you need to do to move forward?
Our team is remarkably agile and works hard to position themselves at the forefront of product design and business practices. Currently, we are observing the growing trend towards automation and are looking for ways to integrate it into our products and processes. We also take a look at our environmental sustainability as we anticipate its growing importance to our industry.
Q – What has been the company's greatest success since its inception?
We truly value our accomplishments in establishing an international presence, through our local teams, who develop close relationships with our clients. One of them entered the American market and established a manufacturing plant in the state of Georgia. It can take years of trial and error to gain a foothold in overseas markets, and we're very proud of the growth we've seen.
Q – On the other hand, what was the biggest "Oh Bugger" moment or the steepest learning curve?
We have had to learn to adapt to each specific market, with the need to design products to meet specific market needs and preferences – while drawing on our technical expertise and our cultural pillars to guide our relationships with our customers. The steepest learning curve to date has been in the United States, when we finally realized that Americans are "doing it their way."
Q – If you were approached by someone looking to start a business, what would be your three key tips?
Keep your focus tight and intense and become the best in the world at what you do. Think globally, always considering your international opportunities. It is important to view your mistakes as learning and growth experiences.
Q – Where do you see the business in the next three, five and ten years? What changes are you planning to stay relevant and grow your business?
Over the next three to five years, we will invest heavily in our development capabilities and customer relationships to support the growth of our business. We will also pay particular attention to the growth of our international markets. As for the next ten years, we have a plan, but that will have to be a surprise!