NexGel Stock: Raised $14.2 Million From Its IPO (NASDAQ:NXGL)
---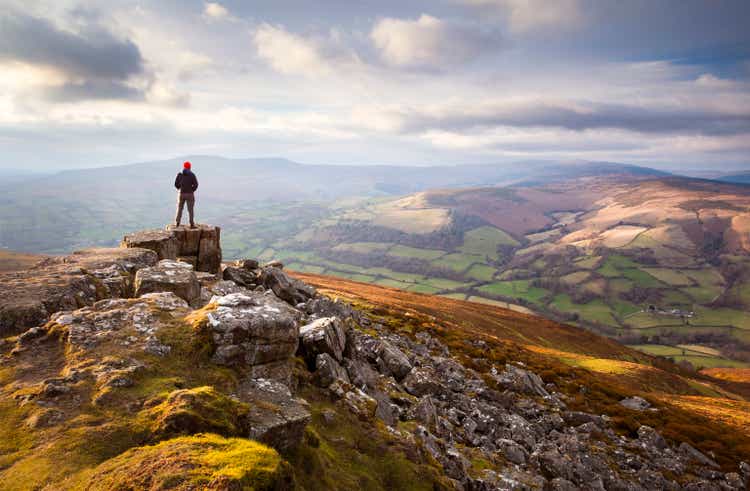 I was looking at this company this morning – NexGel, Inc. (NXGL) – and I thought the address looked familiar. So I put it on Google Maps and took a look at the place. I noticed a building on a deserted street with a board outside, which, on closer look, said Alliqua. That's a name that is familiar to me – I vaguely recall it used to be a heavily discussed skin care company way back when. So I dug into the company report and lo and behold, NexGel turned out to be a spinoff of a spinoff of Alliqua – with a very similar business but no familiar face on the BoD.
NexGel is a cGMP manufacturer of aqueous polymer hydrogels (gels) in sheet form that are used for medical diagnostics, over-the-counter (OTC) medication, transdermal drug delivery, wound care, and cosmetics. The Company has been operating mainly as a contract manufacturer of gels, including custom gels manufactured utilizing proprietary technologies for third parties who incorporate them into their own products. The Company has also started producing its own gel based consumer products for white labelling as well as proprietary branding. NexGel's hydrogels are claimed to be gentler as they use a unique electron-beam cross-linking process instead of chemical cross-linking agents or chemical adhesives that may also interfere with the active ingredients.
The Company has one of only three electron-beam hydrogel facilities in the U.S., manufacturing state-of-the-art hydrogel products to rigid specifications utilizing proprietary as well as non-proprietary mixing, coating and cross-linking technologies, and with a broad range of liners that the gels get coated onto, enabling customization of color and texture with predetermined moisture vapor transmission rate and active ingredient release rates. Active ingredients are added before or after the cross-linking depending upon their interactivity with ionizing radiation. The Company's recently upgraded 13,500 square feet facility that is ISO certified and compliant to FDA's stringent requirements, can annually produce approximately 1.4 billion square inches of product but is currently operating at only 5% capacity, offering vast scope for growth.
Business Segments
NexGel's primary business of contract manufacturing serves customers such as Medtronics, in the U.S. and other regions, providing bulk roll stock, which is incorporated as components into their own products for:
Less intrusive and painless drug delivery utilizing the body's glandular activity with potential safety and efficacy advantages over traditional delivery methods like injection or ingestion;

Transdermal applications such as palliatives, hormone replacement, contraception, treatment of acne, angina, calluses and corns, cough, diabetes, motion sickness, shingles, warts, and smoking addiction, in either prescription based therapies or non-prescription OTC applications;

Moist wound and burn dressings that provide quicker healing and potential anti-inflammatory effects;

Warming and cooling devices, iontophoresis devices, medical electrodes, and medical products for sensitive skin;

Cosmetic applications such as cooling and face masks, moisturizers and skin care applicators.
The Company recently started white label services enabling OTC brands to resell any of their products formulated over two decades with over 200 active and/or natural ingredients. Apart from this the Company has started a new custom development service whereby customers can create their own custom hydrogel finished product using the Company's technologies and resources against payment of a development fee. NexGel remains free of financial risk in the development and production of the custom product. Companies with established products too can offer a patch delivery alternative for their successful products using the custom service.
Since 3Q-2020, the Company started producing its own branded consumer hydrogel products also, which presently are sold on the Amazon marketplace. Currently, there are nine products of which OTC remedial products for blisters and pain relief are sold under the brand name MedaGel, and cosmetic products like wrinkle and skin creams are sold under the brand name LumaGel. One of the products SilverSeal, marketed for OTC wound care under MedaGel in partnership with Noble Fiber Technologies, Inc., has demonstrated potential for skin scar treatment, a market expected to grow from ~$21 billion in 2020 to ~$45 billion by 2028. A recent validation study found SilverSeal to be "up to 99% effective in reducing common bacteria, fungus and yeasts that can be present after a superficial skin injury." The Company's recent launches under the MedaGel brand include a Migraine Relief patch that is drug-free and provides irritation-free comfort for many hours, and a ClearComfort hydrogel patch to prevent and treat foot blisters.
The Company is also developing a medical device NEXDrape through a wholly-owned subsidiary, NexGelRX, Inc., created to advance their all-natural biodegradable hydrogels as a drug and cell delivery system in pre-operative, intra-operative, and post-operative care. NEXDrape is an incise surgical drape designed for patients with impaired or fragile skin, to improve the skin integrity and overall care at the sites where medical devices interface with the human body. The Company has conducted one animal and two human cadaver proof of concept studies with NEXDrape demonstrating "benefits over the current incise surgical drape products: (I) no skin irritation; (II) able to deliver a wide range of antiseptic and antibiotic agents; (III) eliminates air bubbles; and (IV) prevents dermis removal post-surgery, which reduces the risk of patient infection and discomfort." A patent for NEXDrape has been filed under the Patent Cooperation Treaty. The Company is also in the process of developing a product called NEXDerm designed as an alternative to 3M Healthcare's Tegaderm, to "secure central lines and intravenous tubes and devices to patients before, during and after medical treatment." The Company intends to file 510(K) premarket submission with the U.S. Food and Drug Administration (FDA) for both the products to demonstrate their safety and efficacy compared to approved products, however instead of commercializing themselves, the Company intends to pursue licensing and partnering opportunities.
Financials
NexGel, known as AquaMed Technologies, Inc., until name change on 11/14/2019, was spun-off as an independent company from Adynxx, Inc. (OTCPK:ADYX) on 6/21/2019, with all existing operations except a corporate property lease. Adynxx itself is the surviving company pursuant to a reverse merger between Adynxx and Alliqua BioMedical, Inc., on 5/3/2019. NexGel assumed net liabilities of $59,000 pursuant to the spin-off. The Company filed Form S-1 registration statement on 11/9/2021, which along with amendments became effective on 12/21/2021. The Company also effected a 1-for-35 reverse stock split of its issued and outstanding common stock on 11/29/2021. The initial public offering (IPO) of units priced $5.50 per unit, each comprising one share of common stock and one warrant to purchase one share of common stock at exercise price of $5.50 per share, closed on 12/27/2021 with gross proceeds of approximately $14.2 million. NexGel presently has a market capitalization of $13.97 million on 5.57 million shares outstanding with a price per share of $2.51 at last close on 1/28/2022. The price moved between a low of $2.25 and a high of $4.66 since its shares of common stock and warrants began trading on NASDAQ from 12/22/2021, under the symbols "NXGL" and "NXGLW" respectively. Cash and cash equivalents balance as of 12/31/2021 was $13.3 million, which is expected to provide cash runway not less than 12 months, for advancing its programs in medical devices like NEXDrape, and drug delivery gels and further investment in the continued growth of its consumer product offerings.
Risks
The Company is an "emerging growth company," and a "smaller reporting company," and has elected to take advantage of reduced reporting and compliance requirements.
As of 9/30/2021, the Company had an accumulated deficit of approximately $5.17 million.
The Company leases a combined office and manufacturing space of 16,500 square feet at Langhorne, Pennsylvania, which expires on 1/31/2031.
Although the Company is generating revenue from contract manufacturing, white label manufacturing and consumer product sales, contribution from contract manufacturing has decreased due to the COVID-19 pandemic related supply-chain delays at the customer end. The Company may have to raise additional funding before it attains a positive cash flow.
For the year ended 6/30/2021, 68% of the Company's revenue came from three customers, accounting for 28%, 24% and 16% respectively, and it went up to 95% (33% + 38% + 24%) in the quarter ended 9/30/2021. However the Company does not currently have a contract with them, although they have been taking supplies for over fifteen years, with the contract manufacturing business running on purchase order basis.
The Company also faces a risk of unforeseen delays in supply of raw materials and components that it sources from a limited number of three suppliers. The two polymers, polyethylene oxide and polyvinylpyrrolidone, used primarily in the manufacture of hydrogels are manufactured mainly by The Dow Chemical Company and the BASF Corporation respectively. Any disruption in their supply chain can adversely affect the Company's operations.
NexGel faces a number of competitors in the consumer products and medical devices segments that it is expanding into.
Bottom line
The Company is charting a new course under a new name and management, with the same product platform and facility. I am hoping it does better than its former self.