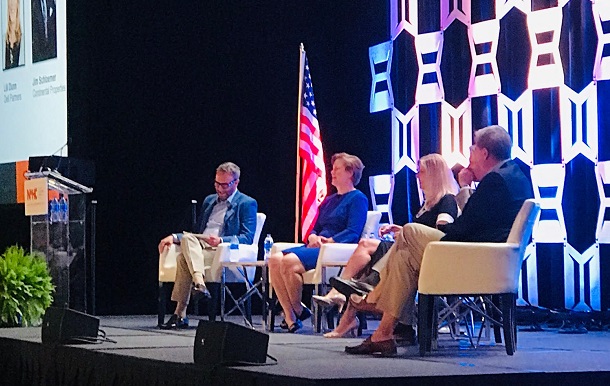 Rethinking Multifamily Risk Post-COVID | GlobeSt
SAN DIEGO—The pandemic has forced organizations to make massive operational changes that have impacted the balance sheet, scattered the CRE workforce and exposed the industry to new levels of risk. Panelists at the NMHC annual meeting here in San Diego dug into how companies are addressing these new challenges. 
According to moderator David Schwartz, chairman and CEO of Waterton, it wasn't long ago that risk, for multifamily, was about fire, hurricanes and liability claims. While those exposures remain, such as the Texas freeze, he said, COVID has brought a new era of risk to the industry "that requires us to rethink how to confront and mitigate the new landscape. The ripple effect of the lost job, rising costs, growing rent delinquencies and more are just some of the many fires we are putting out."
COVID, he said, has taught us that risk mitigation is more than just insurance—it's the ability to run a business under adverse and unpredictable conditions, to honestly evaluate threats and foresee conditions, and to shift gears quickly.
From new regulatory limits to increased cyber and ransom attacks, and the worsening effects of climate change, the risk landscape is far different than just a few short years ago, but panelists have a few ideas to adapt to the changing risk environment and have found ways to mitigate the growing financial exposure the industry is facing.
For panelist Lili Dunn, president of Bell Partners, adding a self-funded layer has been helpful for her firm, which she says insurance providers like. "It means you have skin in the game and can handle smaller claims, which translate into better rates."
She explained that it is imperative to have a strong risk management program "so you can try to prevent as much as you can and so you can react quickly to de-escalate issues."
Sue Ansel, CEO and president of Gables Residential, agreed that insurance carriers do appreciate when a firm takes some of the risk on, noting that Gables has a high deductible program. "We had a significant reduction in our insurance costs," she said. "The higher aggregate allows us to spread our risk across a broader portfolio."
She also noted that partnering with an insurance consultant was also helpful. "Over the last five years, we have had almost no significant liability claims. We have taken a hands-on approach on the front end working with law firms and insurance companies on how we address the issue and how the claim is and how it is settled because it has a long tail."
Overall, panelists agreed that a hands on approach is best.  
Switching gears a bit, panelists talked about how ready they were when Covid hit. For Dunn, she was thankful that her company "had the plumbing in place for a lot of initiatives" and said it was just a matter of implementing them. "We put the gas on and added to customer experience and things like AI and chat box and self-guided tours." Overall, she said, it has made her company better. "We have seen how quickly technology changes and you have to keep looking forward and not get complacent."
Steven DeFrancis, CEO of Cortland, agreed, noting that many new ideas around customer experience were in flight but were not operational. "It forced us to get everything up as quickly as possible so it was good in that way. It forced us to push things we were thinking about doing into action. From a tech standpoint, it was a good thing for the industry."
While Jim Schloemer, chairman and CEO of Continental Properties, noted that Covid did increase communication with his residents, communication tools have always been critical. "Any shifting event brings that more into focus and technology helps us with that."
But panelists agreed that it shouldn't take a black swan event "to cause us to really be our best and address those practices? Why does it take that to accelerate and ignite that?"
Ansel, for example, noted that her company did a virtual office in two days without missing a beat. "If we didn't have to, we would have tested it for six to nine months. The key now is how do we take what we have learned and apply it differently…It will be easy to fall back into the mindset of beta testing all things and sometimes you need to but sometimes you just need to push forward."