Start your weekend with The Weeknd.
---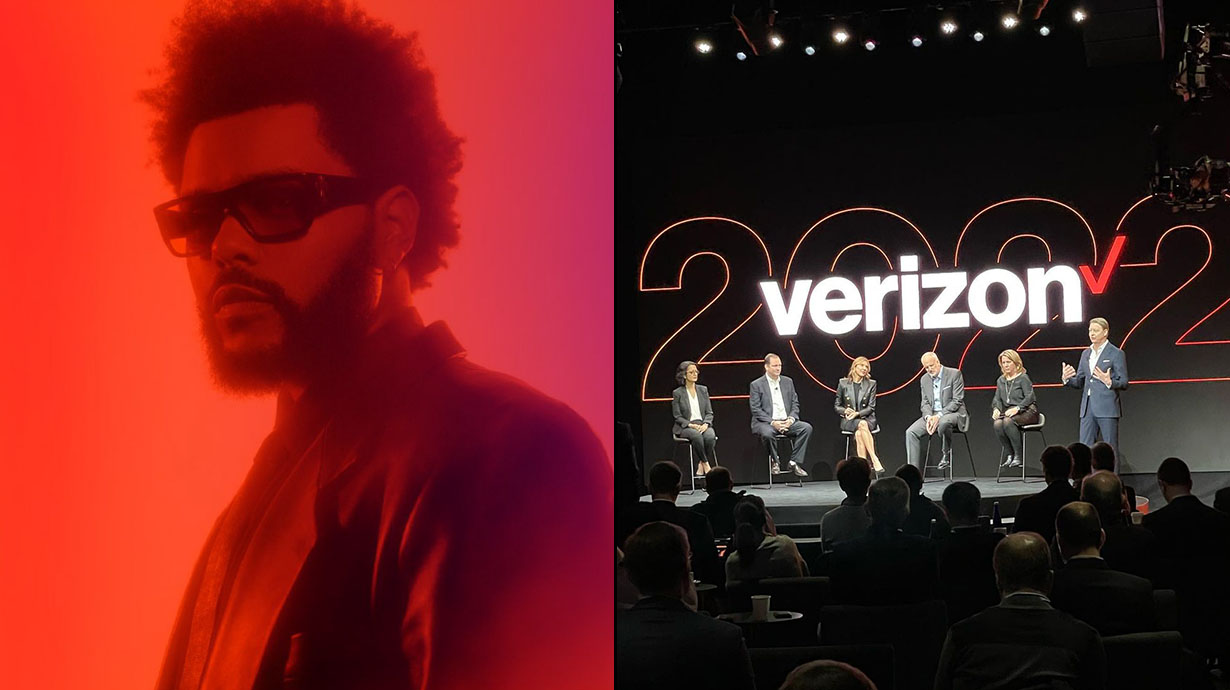 Happy Friday! On today's episode of Up to Speed, Raquel Wilson shared the following updates:
Review of the week Up To Speed
Monday: We wrapped up Black History Month and took a look at everything in store for March, including Women's History Month, Mobile World Congress and National Health Month. nutrition.
Tuesday: Diana Alvear and I kicked off Women's History Month by highlighting all the exciting events around our Women's History Month theme, #BreakTheBias.
Wednesday: Diana gave us an overview of how we introduced ourselves to Mobile World Congress in Barcelona, ​​Spain, and we heard from VBG CEO Tami Erwin and SVP of Consumer Device Marketing , Brian Higgins.
Thursday: We shared the powerful and touching story of V Teamer Tonya House that turned her pain into purpose.
And now for today's news recap.
Ukrainian Relief
Want to help the Ukrainian people? There are many opportunities to get involved. You can make a donation by SMS to the following organizations:
International Rescue Committee – To make a one-time donation of $25, text UKRAINE to 25383.
UNICEF – To make a one-time donation of $10, text UKRAINE to 80100.
Salvation Army National Cooperation – To make a one-time donation of $10, text UKRAINE to 52000.
And we are also increasing our rates for international calls, SMS and in-country data to and from Hungary, Moldova, Poland, Romania, Slovakia and Ukraine until next Thursday, March 10.
We are also waiving international charges for landline residential customers to these countries. And you don't have to do anything to take advantage of these offers. Follow this link for more details.
Volunteer to help
While there are various emerging volunteer opportunities related to the situation in Ukraine, Verizon's standard is that we vet potential volunteer partners before committing. In the meantime, the Red Cross teams are already on site. We encourage V Teamers interested in direct support to consider donating to the Red Cross and requesting matching from the Verizon Foundation for their contributions.
We are also currently identifying impactful volunteer opportunities with approved organizations to offer V Teamers, regardless of location, with the prospect of longer-term support. Be sure to access the Volunteer Portal for the latest volunteering activities for those affected by this crisis.
For example, you can sign up to help build medical care packages and join a walk with Razom.
Appreciate your teammates
It's Friday, March 4, which means it's Employee Appreciation Day. Be sure to check out the special Jamboard we put together on Monday. It's so heartwarming to see all the wonderful notes!
There is still time and other ways to show gratitude to your colleagues.
Remember that a little thank you can go a long way.
Investor Day 2022
Yesterday, Hans and many of our senior leaders spoke at our Investor Day to discuss how we are investing in the future.
"Our Investor Day is a great opportunity for us to showcase Verizon's strategy, progress and vision and how we are executing in the market and winning with our customers," said Brady Connor, SVP, Investor Relations.
Watch the full event replay here and learn more about the top 5 takeaways from this event.
Mobile World Congress 2022 Recap
We also announced a lot of exciting news this week at Mobile World Congress 2022. Verizon Business announced the expansion of its global managed services portfolio with VMware. Additionally, Elise Neel, SVP, New Business Incubation, spoke on robotics and automation, and Francesca Stockton, Aviation Connectivity Product Manager, spoke about the future of drones that will be autonomous and connected to the power of our 5G network. .
Unloc Winners Announced
Congratulations to Nick Cotter of Cotter Agritech, the winner of the 2021 Verizon/Unloc Young Entrepreneurs Challenge. The company specializes in a patented hardware/software solution designed to reduce the use of chemicals in agriculture while improving productivity and the profitability.
Nick fought off stiff competition from across Europe to win over $13,000 in funding, plus a business mentorship package and entry to One Young World 2022.
Next JIF event
Don't forget to tune in for the International Women's Day event with Women's CoLab and Bustle on Tuesday, March 8 at 12 p.m. ET. Hosted by Up To Speed's Raquel Wilson and Diana Alvear, the event will feature a series of panels and discussions with women who have faced and overcome their own challenges throughout their careers. Panelists will include executives from Chipotle, Walmart, Kimberly-Clark and Verizon.
Get ready for The Weeknd
For fans of musical artist The Weeknd, we have great news: Starting Monday, Verizon Up members have exclusive access to a pre-sale of The Weeknd's After Hours Til Dawn Tour. The presale lasts until Wednesday, March 9. Get all the details here.
Robocall dance challenge
Speaking of the weekend, let's start off on the right foot with a little dancing. Hip-hop dancer Fikshun has created a TikTok dance challenge to show us how happy life is with the peace of mind our CallFilter app will give you. So what are you saying? Do you have the moves to win our Robocall Dance Challenge?
If you have any questions, email them to [email protected]
Click here for a transcript of the webcast.
Tell us what you think of Up To Speed.